Bottom Board Dadant-Blatt 10 nicot in plastic
Go to Web Site with summary :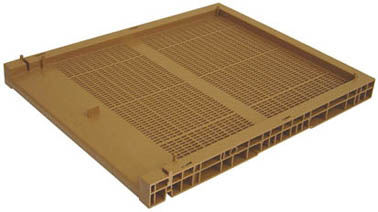 2 Models :
Back ventilation (Beige)

Full Ventilation

(Beige)
With groove for slip one closing's plate (drawer or

wintering plate) by the rear

or one pollen drawer.

Entrance door, Drawer, Wintering Plate and other accessories sold separately.

-----------------

Outside dimensions : 430x540x45mm (height)

Material, Cleaning, Advantages : Refer to Page HiveParts.

Technical specifications :

●

Wires are injected with the piece.

Ideal dimensions for pollen.

●

Entrance of 16mm with notches to slide an entrance door (sold separately).

●

Total length : 540mm, the flight plate can be cut every 10mm.

●

Prepierced holes for our spring fasteners or for 4 screws which will fix the bottom to the body.

●

Prepercied holes on two sides for 2 clips (sold separately). Same holes on the body, honey chamber, hive top feeder, ... Possibility of assemble 4 clips between the bottom board and the body.

●

Antislipping notches on the bottom.

●

2 stops on the front and 4 centring block for the body.

●

1 vein in the middle of the flight's plank avoids its warping and allows to separate the beehive in 2 parts with the help of one middle breeding's partition (not sell). Can be cut if necessary.

●

Extralight : 1,4Kg VBack; 1,3Kg VFull (1 Kg less than wood bottomboard).

●

Extrasmooth : no mould can stick.

Tip : To favour colony's brood development, you should close Full Ventilation Bottom Board (see ).

To avoid warping, you must ALWAYS STOCK FLAT pieces.

Packaging : Pallet of 240 pieces, 355Kg (Back Vent.) / 314Kg (Full Vent.), 110x130x190cm.