Queen Expedition Cage nicot in plastic
Go to Web Site with summary :
" The original " - Registered pattern
Used since 1981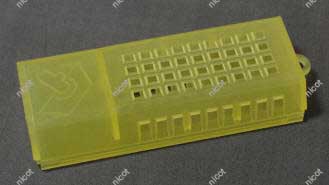 Do not expose the cages full of bees to the sun.
Lifelasting of the bees in these cages with good candy : more than 3 weeks.
Made from translucent plastic material.
EXTRA PLATE rectangular model. Color transparent yellow.
Dimensions : 37 x 13 x 80 mm. Weight : 9,5 g.
It consists of :

1 candy reserve.

1 cap to remove and to introduce in the ring to hang the cage.

Airholes on sides and up and down.

To fill the cage with bees, one only has to put the open cage on an open brood frame with bees and to push the cover to close the cage and to imprison present bees.
Caution : You could buy perfect imitations of our material, with other colors as opaque yellow. Our cage is engraved Nicot.
Packaging : Bag of 100 pieces. Cardboard box of 1000 pieces, 10.2 Kg, 54 x 34 x 35 cm.