Transparent Cover for Hive Top Feeder nicot in plastic
Go to Web Site with summary :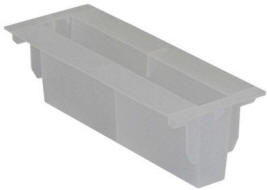 Injected in transparent polypropylen (same material as the cover and glass of the rapid feeder), plastic material, resistant to acids and chemical products.

Use 2 pieces for one hive top feeder.

Outside Dimensions : 68,5 x 178 x 56 mm. Dimensions of vat : 18 x 153 x 53 mm.

Specifications :

●

The bees can not build in the chimney or fly away.

●

As it is transparent, you can see the volume occupied by the bees without opening the hive.

●

You can put any kind of liquid in it.

●

You can pierce some wholes on the sides and treat the bees by evaporating systems (thanks to the high temperature of the body).

Packaging : Cardboard box of 60 pieces, 4 Kg, 49 x 41 x 23 cm.