Go to Web Site with summary :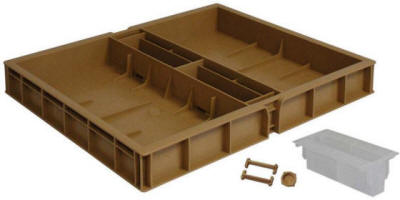 2 Models :

Dadant-Blatt 10 - Outside size 430x500x60mm

Langtstroth -

Dadant-Standard 10 - Outside size 430x510x60mm

Made of recyclable plastic.

Only the central parts and the chimney will remain same.

Cleaning, Advantages : Refer to Page Hive Parts.

Technical specifications :

●

Can be used immediately. Consists of 2 separated tanks of 3,5 litres (7 litres or 10Kg syrup).

Those 2 tanks allow different feeding possibilities : mixed (1/2 liquid and 1/2 solid with candy), totally liquid, totally solid, or with warm sirup.

●

As far as a front incline of 25mm of the beehive, the volume of sirup stays identical.

●

4 entrance reductions forbid the bees entry in order to avoid the drowning during feeding.
●

For queenbreeding, you can keep 2 settlements in the same behive with the 4 entrance reductions. Settlements will be separate by the partition in the middle of pump.

●

The chimney in the middle is usefull to check the volume occupied by the bees, to introduce queencells, queencage or to put some treatment in the hive without disturbing the colony.

●

2 transparent parts will be manufactured and sold separately to cover the chimney. The bees will not build or fly away.

●

2 prepierced holes on two sides of the feeders : the bees can take the candy under the feeder. The hole can be fitted by the spare cap. We advise to pierce only one hole to preserve the tightness of the other tank. If you lose the spare cap, you can replace it by our Cap B2.

●

Very light : 1,4Kg.

●

Extrasmooth : no mould can stick.

User mode :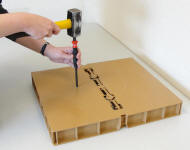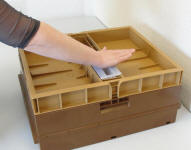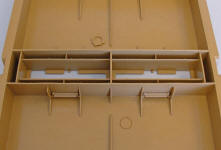 1. You can clear the prepercied holes with a hunt pin and a hammer, in put the Feeder upside down. We recommend to open only 1 hole.
2. Heighten the Feeder to obtain a free space under the chimney. Place the transparent cover in the chimney and press on it with strength to break the spares parts placed at the bottom of the chimney (easier than cut with a Stanley knife).
3. The Feeder is ready to be place on the beehive. The closed vat by the cap removable will be reserved at the candy, the entrance reductions will be in open position or absent. The over vat will receive the liquid food, the entrance reductions will be in close position (the smallest crossing) for prevent the crossing of bees.
Packaging : Pallet of 180 pieces, 270Kg, 110x130x194cm.
To know : The Hive Top Feeder "Langstroth - Dadant-Standard 10" can't be used with the Top Dadant-Blatt 10.